Eliza Bell McGilvry, b. Jan. 22, 1876, d. Sept. 3, 1876
Mary Elizabeth McGilvry, b. Sept. 15, 1877, d. Dec. 5, 1879
Robert James McGilvry, b. June 18, 1867, d. abt. 1979
Mattie Ann McGilvry Miles, b. Aug. 14, 1880, d. Nov. 1, 1949
Margaret Christina McGilvry, b. June 20, 1882, d. May 5, 1885
Lavinia May McGilvry, b. June 7, 1884, d. May 11, 1885
John Willis McGilvry, b. July 8, 1886
David Johnson McGilvry, b. Nov. 14, 1891
Infant McGilvry, b Feb. 22, 1874, d. Feb. 24, 1874
William Dennis McGilvry, b. Jan. 30, 1897, d. Aug. 5, 1897






Lorenzo Dow McGilvry,
b. June 23, 1843, d. Jun 2, 1934
married his first wife,
Oct. 3, 1864
Mary E. Maddox,
b. July 22, 1844, d. March 1, 1874
and a year after her death
married his second wife,
Feb. 4, 1875
Margaret Jane Patterson
b. Nov. 10, 1856, d. Sept. 10, 1932





Emma Jane McGilvry, b. March 26, 1869
George Brebner McGilvry, b. July 13, 1865
Annie Elizabeth McGilvry, b. June 18, 1867
Nancy Ellen McGilvry, b. Nov. 19, 1871
Infant McGilvry, b Feb. 22, 1874, d. Feb. 24, 1874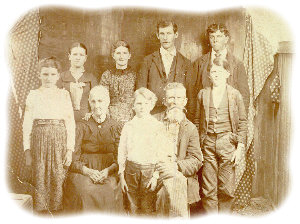 Lorenzo volunteered in the Union army and got sick with typhoid fever at Ft. Butler, Illinois. His father came with his mother and their doctor to take him home. In order for him to be able to leave, his father took his place in the army. Lorenzo's father, Johnson McGilvry, was captured in the battle of Pea Ridge and later died in a prison camp in Lousiana. Johnson McGilvry's name is on a Civil War memorial in Bunker Hill, IL.
Family lived in Bunker Hill, in Douglas County, IL and later moved to Springfield, MO area by covered wagon.
Lorenzo's first wife Mary was his second wife Margaret's aunt! Between them he had 16 children!


Eliza Bell McGilvry, b. Jan. 22, 1876, d. Sept. 3, 1876
Mary Elizabeth McGilvry, b. Sept. 15, 1877, d. Dec. 5, 1879
Robert James McGilvry, b. June 18, 1867, d. abt. 1979
Mattie Ann McGilvry Miles, b. Aug. 14, 1880, d. Nov. 1, 1949
Margaret Christina McGilvry, b. June 20, 1882, d. May 5, 1885
Lavinia May McGilvry, b. June 7, 1884, d. May 11, 1885
John Willis McGilvry, b. July 8, 1886
David Johnson McGilvry, b. Nov. 14, 1891
Infant McGilvry, b Feb. 22, 1874, d. Feb. 24, 1874
William Dennis McGilvry, b. Jan. 30, 1897, d. Aug. 5, 1897